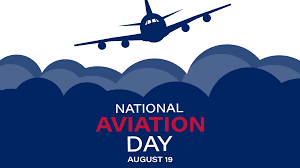 National Aviation Day is August 19th.  August 19th is Orville Wright's birthday and it is a day he shared with his sister, Katharine, as she was born to the day -on his 3rd birthday.
Established in 1939 by Presidential Proclamation, President Franklin D. Roosevelt established August 19th as National Aviation Day,
(USC 36:I:A:1:118).
2023 is a Free Admission day at Wright Brothers National Memorial.  Daily programs commence per regular schedule but the evening gets interesting.
(BYOG) Bring your own gear. Bike/Helmet, Blanket/Chair
6:15 pm Bike Program with Park Ranger Tiffany
7:15 pm Sunset Monument Walk with Park Ranger Adair
8:15 pm Outdoor Movie: Planes (Disney/Pixar) provided by the First Flight Foundation