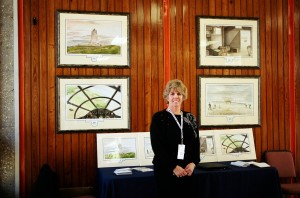 Marsha Mills was the exclusive watercolor artist licensed by the First Flight Centennial Foundation and the Wright Family Foundation to create a First Flight Centennial watercolor collection.  Beginning at the local level in North Carolina, Marsha Mills won many "Best of Show" awards for her unique artistic style.  She soon gained national and international recognition.
Mills rendered the dry-brush watercolor landscape of the "Wright Monument" in 1987 at the request of the National Park Academy of the Arts.  From a pool of 2,300 art pieces, Mills' watercolor was one of the twenty selected to tour the United States in 1988.  At the request of the U.S. House Representative Martin Lancaster, the painting hung in his Washington, D.C. office in 1993-1994 to represent the state of North Carolina.
The First Flight Centennial® Foundation further recognized the painting by selecting it as the first painting in the First Flight Centennial® Watercolor Collection.  As an Official Licensee of the Foundation, Mills rendered three additional paintings of scenes related to the Wright Brothers National Memorial to complete the Collection which was released in 2003.  This fine art limited edition commemorates and celebrates the 100th year anniversary of the Wright brothers' first powered flight at Kitty Hawk, North Carolina on December 17, 1903.  The paintings are both historically accurate and remarkably detailed, which is a rare combination in the watercolor genre. As further recognition of Mills' talent, the collection has become part of the permanent art collection at the Smithsonian National Air & Space Museum in Washington, D.C. and is displayed periodically at the museum for special events and exhibits.
The Collection consists of "The Coin Toss," "Airborne," "Wright Monument," and "Beginning to Beyond."