The Foundation, through its "Rise to the Occasion" Campaign, generated funds for 2003 Centennial Celebration and ongoing capital improvement priorities at WBNM.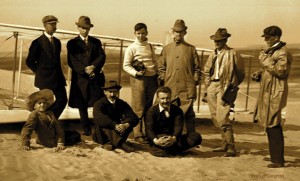 Funds raised and projects completed during this period totaled nearly $5 million and included: Commemorative Pylon Restoration ($383,000), Wright Plaza Improvements ($100,000), Pilot Facility ($300,000), First Flight Centennial Pavilion ($2,000,000), Special Guest (VIP) Hosting Area ($250,000), and Event and Special Funding ($1,600,000).
For seven days, 25,000 visitors entered the Park daily to see exhibits, hear speakers, view air shows, and to be thrilled by the spectacle of flight.
In 2007, the Foundation funded and managed a full-scale restoration of the Commemorative Pylon through a Memorandum of Agreement with the NPS at a cost of $558,490. The Foundation,in cooperation with the NPS, managed project contracting and construction and media relations.
The Foundation has received several awards and recognition:
2008 "Franco Mazzotti" Mille Miglia Club Foundation prize for "Courageous Intelligence-Intelligent Courage" in honor of Orville and Wilbur Wright
2008 Combs-Gates Award from the National Business Aviation Association
2008 Nominated for the Director's Cooperative Conservation Award External Category
Major Projects & Past Events