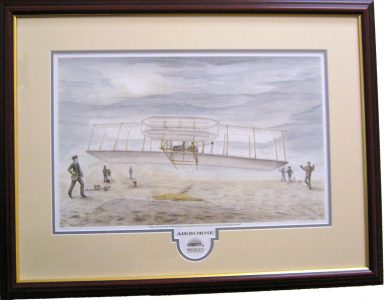 "First Powered Flight by the Wright Brothers – December 17, 1903
Kitty Hawk / Kill Devil Hills,
North Carolina."
It was the morning of December 17, 1903. The temperature at Kill Devil Hill, North Carolina was a chilly 34ºF.  Wilbur and Orville placed a red flag on the side of their camp to signal the U.S. Lifesaving Station one half mile away that they needed assistance.  Responding to the call were three Lifesavers, John T. Daniels, A. D. Ethridge, and W. S. Dough.  Joining them on the walk to the Wright brothers' camp were W. C. Brinkley, a farmer from nearby Manteo, NC, and Johnny Moore, a 17-year-old from Cholowee, NC, visiting the lifesaving station.  Together these men comprised the ground crew of the world's first flight.
So the flight could not be declared as assisted by gravity, a 60 foot rail was placed on level sand near the camp. Orville set up a ground crew to cheer for Orville so he would not be nervous.  At 10:30 a.m., Orville started down the rail. Johnny Moore manned the left wing as Wilbur held the right. They ran with the plane letting go after approximately 30 feet. At 40 feet down the rail, the plane lifted gently skyward. By the end of the rail, the flyer headed up to an initial altitude of 8 feet. Orville began to compensate the upward movement by making the plane turn briefly downward.  Then the plane rose again, this time between 10 and 12 feet above the sand.  The flyer finally touched down after 120 feet and 12 seconds aloft. Awestruck by the historic moment, Johnny Moore ecstatically cried, "Damn if it didn't fly!"
Vital Statistics of the Flyer
Length:  21 feet 1 inch
Wingspan: 40 feet 4 inches
Height: 9 feet, 0 inches
Empty Weight: 605 pounds
Surfaces:  Ash and spruce frame covered with muslin
Engine: 12 hp, gasoline powered, 4 cylinders, weighing 170 lbs.
Other 3 Flights
December 17, 1903
#2 Wilbur – pilot, 12 seconds, 175 ft.
#3 Orville – pilot, 15 seconds, 200 ft.
#4 Wilbur – pilot, 59 seconds, 852 ft.