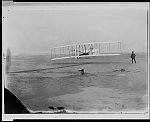 Wright Brothers Day Program
Friday, December 17, 2021
8:30 a.m. Park Gates Open to Visitors
PRELUDE BAND CONCERT
First Flight High School Band, Bob Lamberg, Director
9:00 a.m. ANNIVERSARY PROGRAM
WELCOME & GUEST RECOGNITION
Michael Fonseca, President, First Flight Society, Inc.
PRESENTATION OF COLORS
Camden High School ROTC Color Guard
NATIONAL ANTHEM
INVOCATION 
Father Nathan Finnin, Rector, St Andrews By The Sea Episcopalian Church
WRIGHT BROTHERS NATIONAL MEMORIAL PARK
Dave Hallac, Superintendent – NPS Outer Banks Group
WRIGHT BROTHERS STORY 
Darrell Collins, Historian & FFS Lifetime Member
WRIGHT LEGACY – BREAKING BARRIERS
Elizabeth Hudick, NPS Lead Interpreter
HONORING DR. SALLY RIDE   
Reid Wilson, Secretary & Executive Director, U.S. Dept of Natural & Cultural Resources
David McGowan, Center Chief Engineer
Morgan Appel, Assistant Dean of Education
SALLY RIDE's INDUCTION INTO THE PAUL E. GARBER FIRST FLIGHT SHRINE
WREATH PRESENTATION BY 1903 WITNESS DESCENDANTS 
Darrell Collins & Judith Fearing, FFS Director & Elijah Baum Descendant
FLYOVER TRIBUTE TO WRIGHT BROTHERS NATIONAL MEMORIAL
NASA aircraft, Ft. Bragg 82nd Combat Aviation Brigade
Candy Bomber's C-54 Spirit of Freedom
The Spirit of Freedom will land at First Flight Airstrip and be open for tours throughout the day.
The Outer Banks Repeaters Association will take Wright Brothers National Memorial on the air world-wide as part of "Parks on the Air".  Stop by and visit with them, be a guest operator, learn about HAM radio.  Location WBNM Pilot Facility.