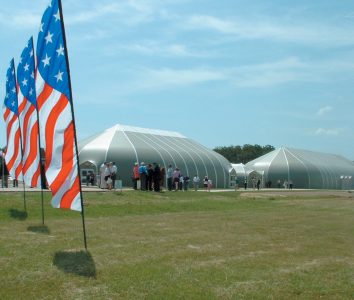 First Flight Centennial Celebration
December 12-17, 2003
By investing in capital improvements and educational programming at Wright Brothers National Memorial, the site of the first flight, our contributors recognized the importance of inspiring the next generation of innovators. With their support of the Celebration, these friends are commemorating two brothers who changed the world.
Thanks to our U.S. Mint Commemorative Coin program, contributions to Foundation projects were matched – dollar for dollar. We salute these Official First Flight Centennial sponsors and donors for their wise and effective investment to create the legacy of an improved Wright Brothers National Memorial.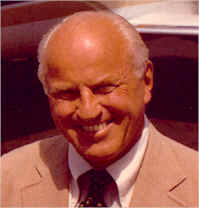 Mr. Harry B. Combs
Noted Pilot, Author and Former President, Gates Learjet Corporation
As a gift to the American people, a full-scale, Mr. Combs donated an authentic reproduction of the Wright Flyer for permanent display at Wright Brothers National Memorial.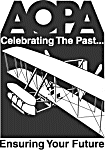 In honor of their members, the Aircraft Owners and Pilots Association has generously funded the New Pilot Facility at the park's First Flight Airstrip.

To honor his vision and leadership, the First Flight Centennial Pavilion is dedicated to the memory of Mr. Tom Davis.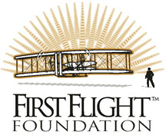 First Flight Centennial Foundation
Board Members and Volunteers
We are grateful to our Board Members and Campaign Volunteers for their generous gifts of time, expertise and financial support.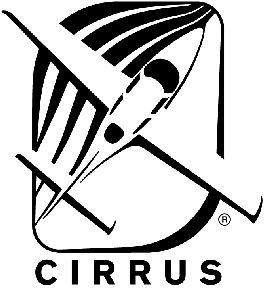 Thanks to Cirrus Aircraft for their generous support and gift of a Technology of Flight Exhibit and a Centennial Edition SR22 to the First Flight Celebrations and Wright Brothers National Memorial.

Northrop Grumman is a Pavilion Production Sponsor who has a strong history of support for First Flight activities.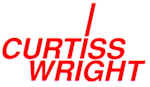 A. J. Fletcher Foundation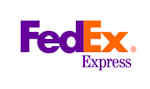 Z. Smith Reynolds Foundation


Blackwater Security Consultants
Christopher Columbus Fellowship Foundation
Josephus Daniels Fund of the Triangle Community Foundation
Mr. & Mrs. John Gussenhoven
Mr. & Mrs. Michael W. Haley
Jefferson Pilot Financial
Mrs. Bonnie McElveen Hunter
The Kealy Family Foundation
Moser Mayer Phoenix Associates, PA
NC Automobile Dealers Association
United Financial of Illinois, Inc.
Air Line Pilots Association
Coastal Beverage Company Inc.
Convergent Broadcasting LLC
Dare County Tourism Board
General Aviation Manufacturers Assoc.
James Kelly & Eleanor Lundy
National Air Transport Assoc.
NC Commercial Flower Growers
Marilyn Elizabeth Thompson
Twiddy & Company Realtors
The Walker Family (St. Louis)
Warren Brinson Weeks Family