On December 16, 2003, one hundred aviation heroes, as selected by North Carolina's First Flight Centennial Commission, were honored as part of the First Flight Centennial Celebration. We hope this information about the honorees encourages you to celebrate the achievements of our first century of flight, and to reflect on these and many other pioneers and innovators as well.
Those honorees marked with an * attended the ceremony.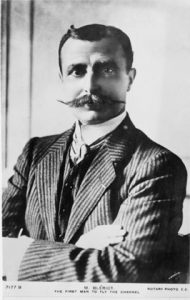 Louis Blériot
Frenchman Louis Blériot (1872-1936) was the first to successfully fly across the English Channel in a small, 25-horsepower machine on July 25, 1909, at 4:35 a.m. After an erratic and perilous 22-mile flight, Blériot landed near England's Dover Castle 37 minutes after setting out. The dramatic flight revealed the airplane's revolutionary potential to the people and governments of the world.
Glenn Curtiss
Pioneer aviator, designer and manufacturer. In 1907, riding an eight-cycle machine he designed and built, Curtiss (1878-1930) set a world speed record of 136.3 mph. In July 1908, he piloted the first official public flight in the U.S., flying one mile. In 1909, Curtiss established America's first aircraft manufacturing company.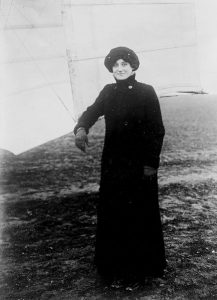 Baroness Raymonde De Laroche
The first woman to receive a pilot's license.
In 1919, the Baroness (1886- 1919) set a women's altitude record of 15,700 feet.
Benjamin Foulois
Benjamin Foulois (1879-1967) sought independence for the air service as a separate branch of the military throughout his career and has been called the "father of the United States Air Force." He became the third military aviator to be trained by the Wright brothers, soloing in 1910. Foulois became chief of the AEF Air Service when the U.S. entered World War I.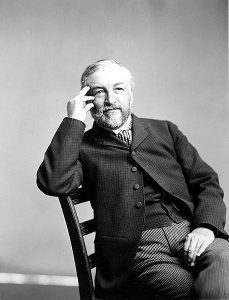 Samuel Langley
In 1891, Langley (1834-1906) published his findings on the study of moving air surfaces. Langley's free-flight tests of unmanned model aircraft were climaxed in 1896 by flights of more than three quarters of a mile and by somewhat shorter flights in the world's first gasoline-engine, heavier-than-air craft in 1901 and 1903. In 1903, he made two attempts to launch the Aerodrome off the top of a houseboat in the Potomac River but failed both times.
Glenn Martin
In 1909, using his own airplane, Martin (1886-1955) taught himself to fly, becoming the third person in the United States to do so. In 1912, using a plane built in his California factory, he flew from Los Angeles to Catalina Island and back, a record 32 miles. In 1917, he relocated to Cleveland and designed the MB-2 bomber. In 1929, he moved to Baltimore and produced the B-10 bomber and the China Clipper flying boat as well as other aircraft. In World War II, his factory created the B-26 Marauder and the Mariner and Mars flying boats.
Ludwig Prandtl
Physicist, and pioneer of the science of aerodynamics. Prandtl's (1875-1953) discovery of the "boundary layer" is regarded as one of the most important breakthroughs in fluid mechanics of all time and has earned him the title of "father of modern fluid mechanics." He made outstanding contributions to boundary layer theory, airship profiles, supersonic flow, wing theory and turbulence.
Harriet Quimby
Quimby (1875-1912) is best remembered as the first American woman to earn a pilot's license. She was also noted for her daring, courageous spirit and achieved fame as one of the first woman reporters for a major newspaper, "The San Francisco Call."
Charlie Taylor
The "unsung hero of aviation," who built the engine that powered the Wrights' first airplane. Taylor (1868-1956) was the first aviation mechanic, the airport manager at Huffman Prairie, and the man behind construction and maintenance of the early aircraft engines.
Theodore Von Kármán
Kármán (1881-1963) was a physicist and aeronautical engineer who gave direction to the early stages of the American rocket and space programs. Founder of the Aerojet Engineering Corporation (1942), the RAND Corporation (1948) and the Jet Propulsion Laboratory. Directed the Guggenheim Aeronautical Laboratory at the California Institute of Technology; when the Nazis forced him to resign his post in Germany, he stayed in the U.S.A. and remained as the director until 1949.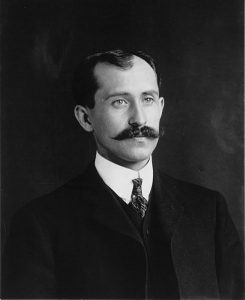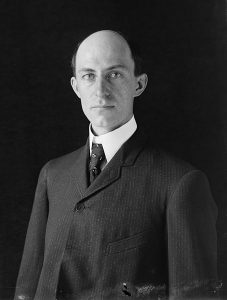 Orville Wright and Wilbur Wright
Wilbur (1867-1912) and Orville (1871-1948) built their first glider, a biplane kite with wings that could be twisted mechanically, in 1899. The brothers made their first trip to Kitty Hawk, N.C., in 1900 to conduct glider experiments. They built the first wind tunnel. Also built a powerful four-cylinder engine and an efficient propeller, and on Dec. 17, 1903, Orville piloted the first powered, heavier-than-air flight of 12 seconds and 120 feet. Wilbur flew later in the day, staying aloft for 59 seconds and covering 852 feet. In 1909, they formed the American Wright Company and proceeded to manufacture their improved planes and to train pilots.
Geoffrey De Havilland
De Havilland (1882-1965) was an aircraft designer. Built his first plane in 1908 and became director of the firm bearing his name, producing many famous aircraft during and between the two world wars, including the Tiger Moth, the Mosquito and the Vampire jet. He established a height record for light aircraft in 1928, won the King's Cup air race at the age of 51 and was knighted in 1944.
Donald Douglas
Douglas (1892-1981) was an aeronautical engineer/manufacturer. After graduating from the Massachusetts Institute of Technology (1912) and working for Glenn Martin as chief engineer, he formed his own company in 1920. Building on the success of the twin engine D-3 (1936), Douglas Aircraft dominated domestic commercial air traffic until Boeing introduced the jetliner in 1958.
Allan Lockheed
Lockheed (1889-1969) launched the original Lockheed Aircraft Company in 1926, which became the 26th largest industrial corporation in the United States. Made history in 1910 with George Gates when the two men made the first dual-pilot controlled flight. Designed the first successful twin-engine, 10-passenger seaplane in 1916 and set a non-stop flying record of five hours from San Francisco to San Diego in this first hydroplane. Built the first Lockheed Vega in 1927, an airplane used by many famous Golden Age pilots who broke speed and endurance records.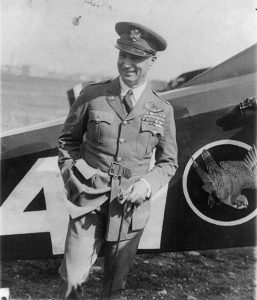 William "Billy" Mitchell
Mitchell (1879-1936) was the renowned pioneer of U.S. air power and generally regarded as one of the most far-sighted military leaders of his age. The most famous U.S. aviator of WWI, he commanded the largest concentration of aircraft in France in September 1918 – about 1,500 warplanes. Mitchell was court-martialed for his prophecy that Japan might cripple the U.S. navy at Pearl Harbor.
Edward "Eddie" Rickenbacker
Rickenbacker (1890-1973) shot down 26 enemy aircraft in seven months, receiving the Congressional Medal of Honor and the nickname, "Ace of Aces." In 1927, he went to work for General Motors (GM) to rescue one of their divisions, Eastern Airlines. During his initial management year (1934), the airline turned the first profit in the history of aviation. GM divested the company in 1938 and he bought the controlling interest and became president, general manager, and director.
Sir Thomas Sopwith
Sopwith (1888-1989) won a prize for the longest flight across the English Channel in 1910, and founded the Sopwith Aviation Co. in 1912, building many of the aircraft used in World War I, such as the Sopwith Camel. Chairman of the Hawker-Siddeley Group from 1935, and president from 1963, he was knighted in 1953.
Elmer Sperry
Remembered as the father of modern navigation technology, Sperry (1860-1930) founded the Sperry Electric Company (1880), and earned more than 400 patents including his most important, the gyroscopic compass. This compass made autopilot steering possible in both air and sea travel. He also built the first aerial torpedo in 1917, which later became the first successful guided missile. Following World War I he developed the automatic pilot, now standard equipment on all commercial, business and military aircraft.
Lawrence Sperry
In 1915, Sperry (1892-1923) conceived the three-way gyrostabilizer to steer bombing planes. Developed the first amphibious flying boat in 1915 and added lights to it to make night flights. Formed the Sperry Aircraft Company in 1917 to perfect the gyrostabilizer and other flight instruments. In 1918 he developed a triplane amphibian for the Navy and an improved self-contained parachute.
Commander Elmer Stone, USCG
Born in New York, Commander E. F. "Archie" Stone (1887-1936) was the pilot and navigator on the first successful trans-Atlantic flight.
Baron Manfred von Richthofen
Known as the "Red Baron," von Richthoffen (1892-1918) was noted for his high number (80) of aerial victories. He was shot down behind the British lines. At first in the cavalry, he later joined the German air force and, during WWI became commander of the 11th Chasing Squadron, more commonly known as "Richthoffen's Flying Circus" because of their decorated, scarlet aircraft.
Walter Beech
Beech (1891-1950) was an aviator and aircraft manufacturer. In 1932, after serving as a pilot in the U.S. Army, working as a test pilot and organizing his first company, Travel Air, he founded the Beech Aircraft Company, which incorporated in 1936. During WWII, the company produced more than 7,000 planes, including Model 18 twin engines.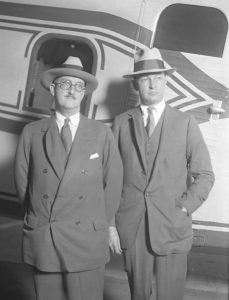 William Boeing
In 1927, Boeing (1881-1956) organized what would become United Aircraft and Transport. In 1934 the federal government divided United Aircraft and Transport into Boeing Aircraft (a major manufacturer of military and civilian aircraft), United Aircraft and United Airlines, and he retired from business.
Clyde Cessna
Cessna (1879-1954) built and flew his first plane in 1911. In 1925, he and others organized the Travel Air Company. In 1928, having built the first cantilever plane in the country, he created Cessna Aircraft to produce them.
Jimmy Doolittle
In 1922, while Doolittle (1896-1993) was serving as the U.S. Army Air Corps' chief of experimental flying, he became the first pilot to fly across the United States in less than 24 hours. On Sept. 24, 1929, he made the world's first totally blind flight. On April 18, 1942, Doolittle led the first U.S. air attack on Japan, the Tokyo Raid, in World War II. In 1942, Brigadier General Doolittle led U.S. aviators into North Africa. He was promoted to lieutenant general in 1944 and commanded the Eighth Air Force between 1944 and 1946.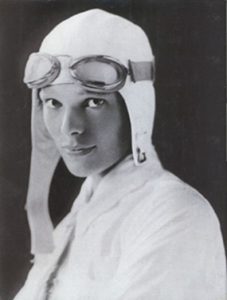 Amelia Earhart
Earhart (1897-1937) became the first female pilot to complete a solo flight across the Atlantic Ocean – the first to succeed since Charles Lindbergh's legendary flight in 1927. Four years later, Earhart attempted a flight around the world. She disappeared en route, and was never heard from again.
Robert Goddard
On March 16, 1926, Goddard (1882-1945) launched the world's first liquid-fueled rocket in Auburn, Mass., and became the father of modern rocketry. The flight reached an altitude of 12 meters, covered a horizontal distance of 56 meters and lasted 2.5 seconds.
William Lear, Sr.
One of the outstanding pioneers of aviation, Lear (1902-1978) held more than 150 patents on inventions such as the automatic pilot for planes, eight-track stereo cartridges and the car radio. Until 1967, he was the owner of the Learjet Corporation, pioneers in the manufacturing of small corporate jets. He unveiled his radically new jet-powered business aircraft the "Learjet" in 1963.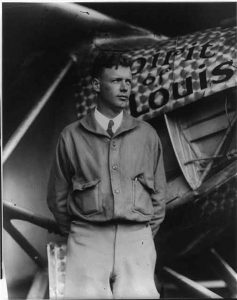 Charles Lindbergh
Lindbergh (1902-1974) was one of the greatest adventurers in the air that the world has ever known. On May 20, 1927, in a Ryan monoplane named the Spirit of St Louis, he took off from Roosevelt Field on Long Island, N.Y., and traveled 3,610 miles to Paris, France, completing the first solo, non-stop transatlantic flight in history. It took him 33 hours and 30 minutes.
James McDonnell
McDonnell (1899-1980) was an engineer, aerospace industrialist. Founder of McDonnell Aircraft Corporation and later CEO of the merged McDonnell Douglas Corporation. Among his notable achievements were the production of the U.S. Navy's first carrier based jet fighter, the FM-1; America's first manned space craft, Mercury; and the F-4 Phantom jet, for which he was awarded the prestigious Collier Trophy in 1966. After merging his company with Douglas Aircraft, they produced the acclaimed DC-10 wide body jet, and his crowning achievement, the F-15 Eagle fighter.
Willi Messerschmitt
Messerschmitt (1898-1978) pioneered in building jet- and rocket-powered interceptors and is best known for building the Me262 fighter, the first jet-plane flown in combat, in 1944. His Me109 set a world speed record in 1939, and during WWII he supplied the Luftwaffe with its foremost types of combat aircraft.
Wiley Post
In his plane the Winnie Mae, Post (1898-1935) was the first person to fly solo around the world, and was considered one of the most celebrated pilots in aviation history. On June 23, 1931, he and Harold Gatty, a navigator, took off from Roosevelt Field Long Island, and eight days, 15 hours and 51 minutes later, touched down at Roosevelt Field after circling the globe. In July 1933, he equipped his plane with a robot pilot and flew solo around the globe in seven days, 18 hours and 49 minutes. Post also developed the first practical pressure suit and helped pioneer high-altitude flight and set unofficial altitude records (as high as 15 km) discovering the jet stream in the process.
Frank Andrews
As the first commander of the Army's General Headquarters Air Force (1935-1939), Andrews (1884-1943) helped develop the B-17 bomber and became a prominent advocate of air power as an offensive weapon. He campaigned to establish the Air Corps as an independent service and held senior commands in the Caribbean and the Middle East (1941-1943) before succeeding Eisenhower as the head of U.S. forces in Europe (1943).
* Harry Combs
President Kennedy appointed Combs (1913-2003) to "Project Beacon" the project that helped form our present air traffic control system. When the President of Gates Learjet was killed in a car accident, Combs stepped in to rebuild the failing Gates Learjet company, generating one of the most dramatic corporate turnarounds in American history. For more information on Harry Combs, click here.
Benjamin Davis
Davis (1913-2002) was the first African-American in the 20th century to graduate from West Point, and after graduating in Tuskegee's first cadet class, he became one of the first African-Americans to serve as a flying officer in the US Army Air Corps. He commanded the 332nd Fighter Group in 1943, which became known as the best escort operators in the 15th Air Force. His efforts to repel discrimination culminated in 1949 when the Air Force became the first racially integrated branch of the U.S. Armed Services. In October 27, 1949, he was promoted to brigadier general, becoming the Air Force's first black general.
Ernst Heinkel
Heinkel (1888-1958) built the first jet plane, the HE-178, in 1939, and the first rocket-powered aircraft, the HE-176. He was chief designer of the Albatross Aircraft Company in Berlin before WWI. He founded the Heinkel-Flugzeugwerke at Warnemünde (1922), making at first seaplanes, and later bombers and fighters, which achieved fame in WWII.
Elrey Jeppessen
Jeppessen (1907-1996) is famous for his development of manuals and charts that allow pilots worldwide to fly safely. In the 1930's, Jepp realized the need for accurate navigational aids for pilots; before, pilots relied on Rand-McNally Road maps. Highlighted landmarks, elevations of obstructions and airport runways while flying mail runs. The manuals proved effective, and United Airlines bought the charts for their pilots. During World War II, "Jepp Charts" were adapted by the Navy as their standard flight manual. Jeppessen Sanderson Company is the world's leading publisher of air navigational information and flight training systems.
Clarence "Kelly" Johnson
Johnson (1910-1990) created innovative technical concepts that significantly advanced aircraft design, performance and reliability. Johnson helped design 40 of the world's top aircraft, including the Lockheed P-38 "Lightnings;" the model 10 "Electra" used by Amelia Earhart; the XC-35, the first successful pressurized cabin plane in 1936; and the "Super Electra" used by Howard Hughes to set a record-smashing flight around the world. He also designed the U-2 and SR-71 "Blackbird" which made a non-stop flight from New York to London in 1 hour, 55 minutes.
Jack Northrop
Northrop (1895-1981) excelled as a designer of conventional aircraft and strikingly unusual concepts. He is associated with many design breakthroughs, ranging from the famous Lockheed Vega of the 1920s to the giant Northrop flying wings of the 1940s. In 1916, while working for the Loughead Aircraft Company (later Lockheed), he co-invented a process for making monoplane fuselages and helped design the F-1 flying boat. He became chief engineer at Lockheed in 1927 and built the Vega monoplane. As founder of Northrop Aircraft, Inc. (1939) he built the first successful N-1M flying wing and the XP-56 flying wing fighter. He also created the first U.S. rocket-powered aircraft, the JB-10 flying bomb, the P-61 Black Widow night fighter and the XP-79 flying wing fighter.
William Piper, Sr.
Piper (1881-1970) was an early advocate of the use of light planes by the military services. In February, 1941, he proposed to the War Department that light planes be employed to control troop movements, scout, patrol, the dropping of bombs and torpedoes, ferry personnel and messages, and to be used for blind flying training. Throughout World War II, more than 5,000 Cubs were used in training, observation, artillery-spotting, patrol and ambulance roles, and served in every campaign on every front. After World War II, he added various lines of the Cub to the military, corporate and general aviation fields. He established the Piper Aircraft Corporation in 1937 and by 1940 Piper dominated the light plane field. His most popular aircraft, the Piper Cub, cost only $1,325 with free flying lessons.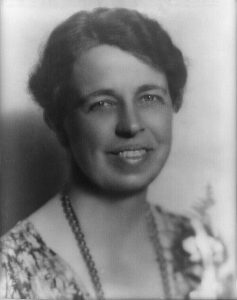 Eleanor Roosevelt
First Lady Eleanor Roosevelt (1884-1962) was very interested in the work at the Tuskegee Institute, particularly in the aeronautical school. In 1941 she visited Tuskegee Army Air Field and asked to take a flight with one of the Tuskegee pilots. Although the Secret Service was anxious about the ride, flight instructor Charles A. Anderson piloted Roosevelt over the skies of Alabama for more than an hour. That flight proved for Roosevelt that blacks could fly airplanes, and she did everything in her power to help them in that endeavor. Roosevelt marked the occasion with a photograph of herself and Anderson, which she promptly brought back to her husband, the President of the United States, and successfully urged him to utilize the 99th Squadron in combat missions.
Igor Sikorsky
Sikorsky (1889-1972) is synonymous with the successful development of three important types of modern aircraft: the large four-engine airplane, the giant flying boat, and the unique and versatile helicopter, each of which has played a vital role in the development of aviation. During WWI, he built a series of four-engine bombers. In 1927, Sikorsky built a series of amphibians used to pioneer Central and South America air routes. In 1931, Sikorsky designed and built flying boats called "Clippers" for transoceanic air routes. On Sept. 14, 1939, Sikorsky flew his design of a single-rotor helicopter after he changed the angle of the lifting rotor blades as they revolve enabling it to leave the ground.
Cyrus "C.R." Smith
Smith (1899-1990) took charge of the southern division of American Airways in 1930 and became vice president for operations of the entire airline in 1933. In 1934, became president of the renamed American Airlines and brought in the highly profitable DC-3. By 1941, American Airways was the leading domestic carrier. In April 1942, he joined the U.S. Army Air Force, helping to organize the Air Transport Command, and later serving as Air Transport Command Deputy Commander, supervising the wartime development of a worldwide air transportation system. After the war, Smith returned to American Airlines as chairman of the Board and CEO, leading the company as it introduced the world's first transcontinental jet service in 1959.
Hans J.P. Von Ohain
In 1935, von Ohain (1911-1998) developed a theory of turbo jet engines, built a working model and then patented it. He designed and produced a successful liquid-fueled engine Hes.3B, and it was installed in the HC-178 airplane. The first flight of a turbojet-powered aircraft was made on Aug. 27, 1939, and led Germany to develop jet airplanes. His accomplishment occurred simultaneously to Sir Frank Whittle's accomplishment, although neither scientist knew of the other as they secretly raced to develop the technology.
Sir Frank Whittle
Whittle (1907-1996) experimented with and constructed turbo-jet engines in pre-World War II England. In 1929, he patented a turbo-jet engine and in 1937 proved to skeptical British Air Ministry officials that a jet-powered aircraft was feasible. His accomplishment occurred simultaneously to Hans J.P. von Ohain's accomplishment, although neither scientist knew of the other as they secretly raced to develop the technology. In 1941, a Gloster E28/39 research aircraft was fitted with a Whittle "W.1" engine that produced 800 pounds of thrust. The aircraft reached 466 miles per hour and climbed to 42,000 feet, exceeding all speed and altitude limitations of that period.
Henry "Hap" Arnold
Taught to fly by the Wright brothers, Henry H. (Hap) Arnold (1886-1950) was commander of the Army Air Forces in World War II and the only air commander ever to attain the five-star rank of general of the armies. He was especially interested in the development of sophisticated aerospace technology to give the United States an edge in achieving air superiority. He fostered the development of such innovations as jet aircraft, rocketry, rocket-assisted takeoff and supersonic flight.
Richard Bong
In January 1943, during WWII, Bong (1920-1945) became an "ace" with five confirmed victories in just over a month. In April 1944, he recorded his 27th victory to pass Eddie Rickenbacker, World War I ace, with 26 victories. After two years of combat including more than 200 missions, Bong had 40-recorded victories and seven probable victories.
Jacqueline Cochrane
Cochrane (1906-1980) rose above a poverty-stricken childhood to become one of history's most accomplished female aviators. In 1935, she became the first woman to fly in the Bendix Trophy Race, which she won in 1938. In 1937, she became the first woman to make a blind instrument landing. She set new women's records during 1939-40, in altitude and open class speed. During World War II, she was the first woman to fly a bomber across the Atlantic Ocean, leading to the formation of the Women's Air Force Service Pilots (WASP) program. In 1953, she became the first woman to exceed the speed of sound. In 1962, she became the first woman to fly a jet, subsequently setting 73 records in three years. She exceeded Mach 2 in 1964.
Marcel Dassault
Dassault's (1892-1986) greatest contribution to aviation history resulted from his postwar founding of the Dassault Company, which later became the leading aircraft builder in France. He revolutionized French national defense with such aircraft as the "Ouragen" and the supersonic "Mystere" fighters. The first European Mach 2 aircraft, the "Mirage," gave new independence to French foreign policy, both politically and economically. The aerospace leadership of this French industry can be directly traced to Dassault's leadership. He was a deputy in the National Assembly (1951-1955), and for the Oise (1957-1958), and was elected to the National Assembly in 1986.
Charles Draper
Draper (1901-1987) is referred to as the "father of inertial navigation" for evolving the theory, inventing and developing the technology, and leading the effort to use the navigation systems in aircraft, spacecraft and submarines. Draper also developed engine pressure, vibration and combustion indicators. During World War II, he developed gyroscopic guidance and control instruments used on guns, bombs and rockets. After the war, he directed development of aircraft guidance systems as well as inertial guidance systems for the Thor, Titan, Polaris and Poseidon missiles. He led the development of the spacecraft guidance systems in the 1960s for NASA's successful Apollo lunar landing missions and for its orbital astronomical observatory. Led the development of the "fly-by-wire" aircraft central system, the guidance systems for Trident missiles and Skylab spacecraft; the guidance system for the Navistar satellite, and the guidance system for the space shuttle.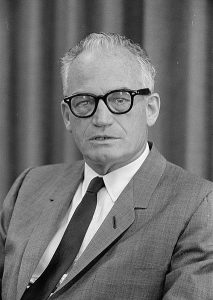 Senator Barry Goldwater
Sen. Goldwater (1909-1998) is best known for co-sponsoring the legislation that created the Federal Aviation Administration (FAA). As a senator, he supported NASA research programs, all-volunteer military, the National Air and Space Museum, recognizing WASP pilots as World War II veterans and building a Vietnam War Memorial.
* Robert "Bob" Hoover
Hoover has thrilled millions of men, women and children over the last five decades with his acrobatic flying maneuvers. He has flown more than 300 types of aircraft and flight tested or flown nearly every type of fighter aircraft. During WWII, he flew 58 missions before being shot down and spent 16 months as a POW. After the war, he was in the Flight Evaluation Group at Wright Field, Ohio, where he flew captured aircraft and the latest USAF aircraft. Alternate pilot for the Bell X-1, Hoover flew the chase plane as close friend Chuck Yeager broke the sound barrier on Oct. 14, 1947. Hoover was the first man to fly the XFJ-2 Fury Jet and the Navy's T-28 trainer. In 1978, he set three climb-to-altitude records at Hannover Air Show in West Germany. And in 1985, he set a coast-to-coast record flying a P-51 from Daytona Beach to Los Angeles in five hours and 20 minutes.
Curtis LeMay
Before he retired as Chief of Staff of the Air Force in 1965, General LeMay (1906-1990) became a symbol of the nation's air power through his combat experience in WWII and his leadership in building up the Strategic Air Command. He participated in the B-17 mass flight to South America in 1938, pioneered air routes over the South Atlantic to Africa, and the North Atlantic to England. He organized and trained the 305th Bombardment Group, developing formation procedures and bombing tactics; and led the Regensburg raid, a B-17 shuttle striking Germany and Africa during World War II. He planned the B-29 air raids over Japan during World War II and organized the Berlin Airlift as commander of the U.S. Air Force in Europe. In 1948, he assumed the command of the new SAC (Strategic Air Command) where he laid plans for the ICBM (Intercontinental Ballistic Missile).
* Francis Rogallo
Rogallo developed the first successful flexible wing, which gave birth to hang gliding. Rogallo conceived the thought of making an aircraft wing from a parachute-like flexible structure that would open and maintain its shape by wind pressure. With his wife Gertrude's help, he made small models that were tested in a wind tunnel at their home. After extensive experimentation, he designed the first Rogallo wing, for which Gertrude sewed the prototype from material scavenged from the kitchen curtains. The cloth wing was tested on Aug. 15, 1958, and it worked. On March 20, 1951, the Rogallos were granted a patent on the design of the Rogallo wing, which has since been used around the world by millions of people.
Paul Tibbets, Jr.
On Aug. 5, 1945, Tibbets piloted the B-29 Enola Gay to Hiroshima and dropped the world's first atomic bomb. In 1944, Tibbets was assigned to the secret Manhattan Project. His responsibility was to organize and train a unit to deliver these weapons in combat operations and modify the B-29. He served in the Strategic Air Command, served a tour with NATO in France and was responsible for establishing the National Military Command Center in the Pentagon.
Hoyt Vandenberg
Vandenberg (1899-1954) designed airpower strategies that contributed to key allied ground victories in the North African, Sicilian and Italian campaigns during WWII. He was chief of staff of the 12th Air Force in 1942, supporting the North African Campaign. He commanded the 9th Air Force, whose air support during WWII paved the way for Allied advances across Europe and into Germany. He played a large role in planning and providing air support for the successful invasion of Normandy, France, in 1944. In 1948, he was appointed chief of staff of the USAF serving at the post through the Berlin Airlift, Korean Conflict.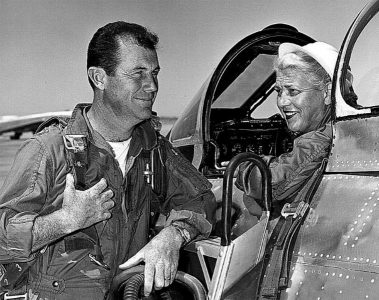 * Charles Yeager
On Oct. 14, 1947, Captain "Chuck" Yeager, a WWII fighter pilot, became the first to break the sound barrier in a needle-nosed Bell X-1. The four rocket motors of this tiny research craft could gulp an entire supply of fuel in two and one-half minutes. To save fuel, the Bell X-1 was carried aloft by a B-29. The craft was released over Muroc Dry Lake, Calif. Yeager leveled the craft and fired its rockets. Before Yeager's accomplishment, many agreed the sound barrier was an impenetrable obstacle to faster flight. However, with the world's first supersonic flight, Yeager proved that speeds faster than sound were attainable.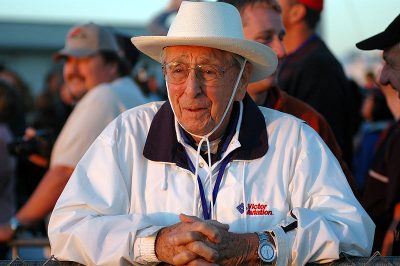 * A. Scott Crossfield
On Nov. 20, 1953, Crossfield became the first human to reach Mach 2 (twice the speed of sound) in the air-launched, rocket-propelled D-558-2. And, on Dec. 10, 1960, Crossfield became the first human to fly three times the speed of sound, in a North American Aviation X-15 – which he helped design and engineer – reaching a top speed of more than 2,000 miles per hour. Crossfield is one of America's earliest rocket test pilots. While working for the National Advisory Committee for Aeronautics, now NASA, Crossfield test flew aircraft such as the F-100 and the F-102 supersonic fighters; the X-1, X-4 and X-5 rocket planes; and the Douglas 558-2 Skyrocket.
Hugh Dryden
Known for his scientific contributions to fluid mechanics and boundary layer phenomena, Dryden (1898-1965) became director of research for the National Advisory Committee for Aeronautics (1947-1958). He gained wide recognition as the first deputy administrator of the National Aeronautics and Space Administration (NASA) (1958-1965). He was a consultant to the Science Advisory Committee to President Johnson (1965) and a contributor to many technical journals.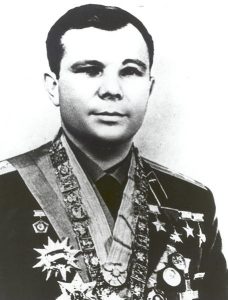 Colonel Yuri Gagarin
On April 12, 1961, Colonel Gagarin (1934-1968), Soviet Air Force, became the first human to break the bonds of earth's gravity and orbit the earth aboard the Vostok 1 spacecraft. It lofted him to an altitude of 200 miles and carried him once around the Earth.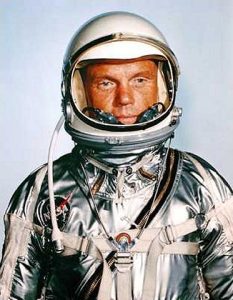 * John H. Glenn, Jr.
On Feb. 20, 1962, Lieutenant Colonel Glenn, United States Marine Corps, lifted off from Cape Canaveral, Fla., at 9:47 a.m. in a small Mercury capsule to become the first American to orbit the earth. In 1974, Glenn was elected into the U.S. Senate for the state of Ohio and served for 24 years. On Oct. 29, 1998, Glenn returned to space as a Payload Specialist 2 aboard the Space Shuttle Discovery, becoming the oldest person to fly to space. His accomplishments also include serving as a military fighter pilot. During WWII, Glenn flew 59 combat missions. In Korea, he flew 63 missions with Marine Fighter Squadron 311. In the last nine days of fighting in Korea, Glenn downed three MIG's in combat along the Yalu River. In July 1957, while project officer of the F8U Crusader, he set a transcontinental speed record from Los Angeles to New York, spanning the country in three hours and 23 minutes. This was the first transcontinental flight to average supersonic speed. Glenn has logged more than 218 hours in space and nearly 9,000 hours of flying time, with approximately 3,000 hours in jet aircraft.
Jeanne Holm
Holm was the first woman in the armed forces to be promoted to the rank of Major General (1973), and this was only one of her many firsts. She served in the Army from 1942-1945 and transferred to the Air Force in 1948, when a new law integrated women in the regular armed forces. She played a significant role in eliminating restrictions on the number of women serving in all ranks, expanding job and duty station assignments for women, opening ROTC and service academies to women, and changing the policies on the status of women in the armed forces. General Holm is recognized as the single driving force in achieving parity for military women and making them a viable part of the mainstream military.
Sergei Pavolovich Korolev
Korolev (1906-1966) directed the launch of Sputnik, the first artificial satellite, on Oct. 4, 1957. Confirmation of his genius came again on April 12, 1961, when another of his designs carried Yuri Gagarin, the first man in space, into orbit around the Earth. Korolev had previously participated in the launch of the first Soviet liquid-fueled rocket in 1933. After WWII, Korolev directed the activities of the German V-2 scientists working in the Soviet rocket program and achieved great success with the R-7 rocket.
Walter "Wally" Schirra
Schirra is one of the original seven American astronauts to go into space in Mercury, Gemini and Apollo spacecraft. He flew 90 combat missions in Korea as an exchange pilot with the USAF and later became a test pilot. He piloted Sigma 7 on a six-orbit Mercury mission. He was commander pilot of Gemini 6. He was aboard the first Apollo manned flight after the fire that killed three fellow astronauts.
Bernard Schriever
Schriever is considered the father of the Air Force's ballistic missile program. In 1954, Schriever assumed command of the Air Force Ballistic Missile Division, Air Research and Development Command, Los Angeles, Calif. In this capacity, he directed the nation's highest priority project, the development of an intercontinental ballistic missile (ICBM). He was responsible not only for pushing forward research and development on all technical phases of the Atlas, Titan, Thor and Minuteman ballistic missiles, but for concurrently providing the launching sites and equipment, tracking facilities, and ground support equipment necessary to these missiles. The techniques developed for the Air Force's ballistic missile program have contributed substantially to the nation's aerospace capability.
Rear Admiral Alan B. Shepard, Jr.
Shepard lifted off from Pad 5 at Cape Canaveral, Fla., on May 5, 1961, to become the first American in space. The small Mercury capsule he named "Freedom 7" was propelled into space by a slim but powerful Redstone missile. The suborbital flight reached an altitude of 116.5 miles (space begins at 100 miles altitude or 500,000 feet) at a maximum speed of 5,180 miles per hour. Shepard served as Chief of the Astronaut Office, Johnson Space Center, from 1963 until 1969. In 1971, he commanded Apollo 14, the third manned mission to the moon, and became the fifth man to walk on its surface. He served as Chief of the Astronaut Office again from 1971 until 1974.
Wernher Von Braun
Known as "the father of space travel." Von Braun (1912-1977) was one of the world's first and foremost rocket engineers and a leading authority on space travel. His will to expand knowledge through the exploration of space led to the development of the Explorer satellites, the Jupiter and Jupiter-C rockets, Pershing, the Redstone rocket, Saturn rockets, and Skylab, the world's first space station. Additionally, his determination to "go where no man has gone before" led to mankind setting foot on the moon through development of the Saturn V that launched Apollo 5 to travel to the moon in 1968. He helped found the National Space Institute in 1975 and served as its first president.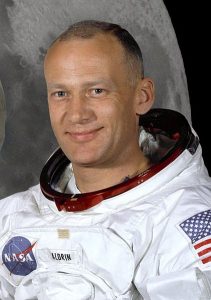 * Edwin "Buzz" Aldrin
As the second human being ever to set foot on the Moon, Aldrin was instantly catapulted into the upper echelons of fame upon his return from the historic Apollo 11 mission. Aldrin has logged 4,500 hours of flying time, 290 of which were in space, including eight hours of EVA. As Backup Command Module Pilot for Apollo VIII, man's first flight around the moon, he significantly improved operational techniques for astronautical navigation star display. On July 20, 1969, Aldrin and Neil Armstrong made their historic Apollo XI moonwalk, thus becoming the first two humans to set foot on another world. Today, he is a leading proponent of civilian space travel and future space efforts. Under the auspices of Starcraft Enterprises, he lectures throughout the world in order to champion his and others' latest concepts for exploring the universe.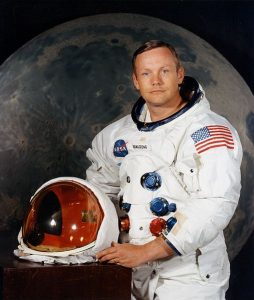 * Neil Armstrong
Armstrong is best known for becoming the first man to walk on the moon on July 20, 1969. But his accomplishments far surpass this single event. He participated in the X-15 Supersonic-jet program and was involved in both piloting and engineering aspects. He made seven flights in the X-15 rocket plane between December 1960 and July 1962 in which he reached the altitude of 207,500 feet and a speed of 3,989 (Mach 4). After being selected in the second group of NASA astronauts in 1962, his first space flight was aboard Gemini 8. His leadership and skill in that flight led to his command position of Apollo 11. With Edwin "Buzz" Aldrin, he spent more than two hours on the lunar surface. After Apollo 11, Armstrong became the deputy associate administrator for aeronautics at NASA Headquarters. He left NASA in 1971 to become professor of engineering at the University of Cincinnati, a post he held until 1979. From 1985 to 1986, Armstrong served on the National Commission on Space, a presidential committee to develop goals for a national space program into the 21st century. He was also vice chairman of the committee investigating the space shuttle Challenger disaster in 1986. Armstrong has flown more than 200 different models of aircraft, including jets, rockets, helicopters and gliders.
Frank Borman
Borman became a hero to people around the world when he led a team of astronauts on NASA's first moon-orbiting space mission in 1968. Commander of Gemini 7, which made the first rendezvous of spacecraft in orbit. Commanded Apollo 8, which became the first manned spacecraft to leave the earth's gravity and journey to the moon where it made 10 lunar orbits. As a pilot, Borman logged more than 6,000 hours of flying time. President, CEO and chairman of the board of Eastern Airline during his 16-year tenure. Michael Collins – Male, American, 1930- Astronaut, test pilot. Collins was the crucial pilot of Apollo 11 command module while Armstrong and Aldrin landed on the moon July 20, 1969. Prior to this flight, he was commander of Gemini 10 where he and shipmate John Young set a new record for the highest flight, 475 miles above the Earth. Collins walked in space on this mission and made a successful rendezvous and docking with a separately launched Agena target vehicle. In 1971, he became the first director of the Smithsonian National Air and Space Museum and later under-secretary of the Smithsonian Institute.
Charles "Pete" Conrad, Jr.
Conrad (1930-1999) was pilot of Gemini 5 in 1965, which made 120 orbits around the earth and set an endurance record of 191 hours in space, ultimately proving humans could stay in space long enough to make it to the moon. He commanded Gemini 11 in 1966, and caught and linked up with an Agena satellite to rocket to a then-record altitude of 850 miles. He commanded Apollo 12 in November 1969 and was the third person to walk on the moon. In 1973, Conrad and crew aboard Skylab II, the orbiting workshop, rendezvous with Skylab fixing the damaged craft and conducting experiments in space. He also served as consultant for the Hubble Space Telescope.
James Lovell, Jr.
Lovell was the first astronaut to make four space flights. He served as pilot of Gemini 7; commander of Gemini 12; command module pilot of Apollo 8; and commander of Apollo 13, the mission plagued with an explosion in a liquid oxygen tank that crippled the service module. As a Naval test pilot, he logged more than 5,000 hours of flying time. Lovell was named deputy director for science and applications at the Johnson Space Center in May 1971. Though Captain Lovell never returned to space, he remained at NASA until 1973 when he retired from the Navy and the space program.
Geraldine Mock
Mock was the first woman to fly solo around the world. The trip took 29 and a half days, with 21 stopovers and almost 22,860 miles in flight. After this first record, Mock went on to set many more marks. In 1965, she set a new 500 km closed-circuit speed record of 206.73 mph for a light single-engine aircraft. She has won numerous awards and honors, including the Amelia Earhart Memorial Award, the American Institute of Aeronautics and Astronautics Distinguished Service Award, the Federal Aviation Agency Gold Medal for Exceptional Service to Aviation and the Glenn H. Curtiss Silver Medal for Achievement.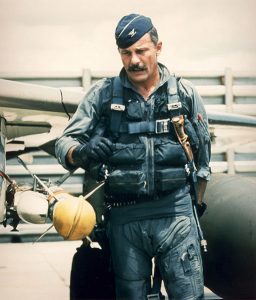 Robin Olds
Olds achieved ace status as a fighter pilot during WWII, shooting down 13 enemy aircraft in 107 combat mission and destroyed 11 and a half aircraft on the ground. He scored four more aerial victories in Vietnam. He was the first American to command a British Royal Air Force Squadron. He came in 2nd in the jet division of the Thompson Trophy Race in Cleveland in 1946. In 1966, he became commander of the 8th Tactical Fighter Wing in Thailand and downed 2 MIG-17's and 2 MIG-21's. He became commandant of cadets at the Air Force Academy in 1967. He also helped start America's first jet aerobatic team.
* Thomas Stafford
Stafford was the pilot of Gemini 6, making the first rendezvous in space. He also was commander of Gemini 9, which performed three types of rendezvous, one becoming the model for the lunar landings. As commander of Apollo 10, the first flight of the lunar module to the moon, Stafford performed the first rendezvous around the moon and performed the entire lunar landing mission except the actual landing. He commanded the Apollo-Soyuz Test Project (ASTP), the first joint space mission between the United States and the Soviet Union. In 1975, he assumed command of the Air Force Flight Test Center. He was chairman of the oversight committee of the successful Hubble space telescope servicing and repair mission. He was recently asked to chair the operational safety and oversight committee for Phase Two of the international space station.
Valentina Tereshkova
In 1963, Tereshkova became the first woman in space, orbiting the Earth 48 times in a period of almost three days, showing women had the same resistance to space as men.
George Brown
Brown (1918-1978) was a member of the 329th Bomb Squadron and flew 25 missions from England before transferring to the Italian front. He was awarded the Distinguished Service Cross in 1943 for assuming command of the Plocsti Romania oil fields low altitude rail after the group commander and 10 others' planes were shot down. He was appointed assistant to the chairman of the Joint Chiefs of Staff in May 1966. In August 1968, he took command of the 7th Air Force in Vietnam. He became commander of the Air Force Systems Command Headquarters at Andrews Air Force Base in September 1970. In August 1973, he became Air Force Chief of Staff. He was promoted to chairman of the Joint Chiefs of Staff in July 1974.
Daniel "Chappie" James
James (1920-1978) was the first African-American four-star general in the history of the USAF. He became a member of the Tuskegee Airmen in July 1943, and during the Korean Conflict he flew 101 combat missions in the P-51 and F-80. In 1966, was named vice commander of the 8th Tactical Fighter Wing in Thailand and flew 78 combat missions over North Vietnam.
* Martha King
Martha King and her husband John are the first couple to hold every category and class of FAA pilot and instructor certificates, and Martha is the first and only woman to achieve this complete ratings sweep. She was also appointed by President Clinton to the First Flight Centennial Federal Advisory Board. In the early 1970s, John and Martha King decided to teach flying to mark time while looking for a serious business. Originally the Kings launched their business out of a spare bedroom in their house. Today their company, King Schools, Inc., operates out of an 18,000-square-foot complex that includes a dedicated television and software production facility. Over the last 28 years, King Schools has delivered more than five million videotapes, CD-ROMs and DVDs, containing more than eight million hours of video instruction.
Donald "Deke" Slayton
Slayton (1924-1993) was one of America's original Mercury Seven astronauts. He was chosen as command pilot for Mercury-Atlas 7 (Aurora 7), but was removed after a heart murmur was detected. He still continued as an active member of the astronaut team and became director of flight crew operations until 1974. He returned to flight status in March 1972 and was the docking module pilot for the Apollo-Soyuz Test Project. The event marked the successful testing of a universal docking system and signaled a major advance in efforts to pave the way for joint experiments and the exchange of mutual assistance in future international space explorations. Slayton logged 217 hours and 28 minutes in his first space flight. He was the oldest astronaut and the last of the Mercury Seven to fly into space. After a short rest and publicity tour, Deke was back to run the shuttle Approach and Landing Test (ALT) program for the Space Shuttle program's orbital test flights in 1975.
Emily Howell Warner
In 1973, Warner became the first woman hired as a pilot by a major U.S. airline, Frontier. Three years later she earned her captain's wings, the first woman to do so. Today, with more than 21,000 flight hours (more than any other woman pilot in the world), Warner is a Federal Aviation Administration Aircrew Program Manager assigned to United Airlines' Boeing 737 Fleet. She also is the FAA representative for United's Flight Safety Action Program. She opened the door for thousands of women pilots and has been a personal mentor and role model to many.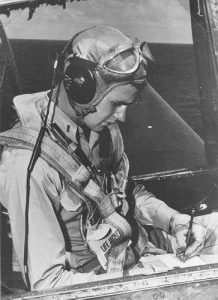 President George H. Bush
Bush was the first military flyer to become president of the United States in 1988. He enlisted in the United States Navy on June 12, 1942, his 18th birthday. He became the youngest pilot in the Navy when he received his wings and a commission in June 1943. While on active duty during World War II, Bush flew torpedo bombers from the aircraft carrier USS San Jacinto in the pacific campaign. His Grumman TBF "Avenger" torpedo plane was hit by anti-aircraft fire and shot down in September 1944 over the Bonin Island of Chichi Jima, 600 miles south of Japan. Bush was the sole survivor of the three-man crew and was rescued by the Navy submarine USS Finback. He was awarded the Distinguished Flying Cross plus three Air Medals for his courageous service.
Mae Jemison
When Jemison was chosen on June 4, 1987, she became the first African American woman ever admitted into the astronaut training program. After more than a year of training, she became an astronaut with the title of science mission specialist, a job, which would make her responsible for conducting crew, related scientific experiments on the space shuttle. On Sept. 12, 1992, Jemison finally flew into space with six other astronauts aboard the Endeavour on mission STS47. Following her historic flight, Jemison noted that society should recognize how much both women and members of other minority groups can contribute if given the opportunity.
* Joe Kittinger
Most recently known for becoming the first person to fly solo across the Atlantic in a helium balloon in 1984, Kittinger's clandestine work in the New Mexico desert linked him to one of the 20th century's most notorious nonevents – the Roswell Incident. He is named as the "red-haired captain" mentioned by eyewitnesses in the Roswell Report: Case Closed. The so-called "alien" locals saw taken away in an ambulance was really one of his teammates injured in a balloon crash. Test pilot for Project Man High, where a high altitude balloon was used with a pressurized gondola and pressure suit and in 1957 he reached an altitude of 96,000 feet. In 1958, he was involved with Project Excelsior to test a persons ability to survive extremely high altitude bailouts and made a jump from an altitude of 76,000 feet. In 1960 in Excelsior III, he piloted the gondola to 102,800 feet, setting a world record for the highest balloon ascent and another for the longest parachute freefall. He piloted his final high altitude balloon flight in 1962 during Project Stargazer. He volunteered for three tours of duty in Vietnam, shot down one MIG but was shot down himself and spent 11 months as a prisoner of war.
* Captain Bruce McCandless, II
In 1984, McCandless became the first human to walk in space untethered. The February flight of the Challenger Space Shuttle was America's tenth space shuttle mission and the first spacecraft of any nation to end its celestial travels at the site where it was launched. After waiting 18 years to make his first space flight, McCandless stepped free from Challenger into the blackness of space for a 90-minute space walk traveling as far as 320 feet from the orbiter. Using a Manned Maneuvering Unit (MMU), McCandless opened a new frontier in practical space walking and revolutionized our ability to survive and work in space.
* Tom Poberezny
Poberezny is a world champion acrobatic pilot and one of the United States' foremost civil aviation advocates. Born into an "aviation family" in 1946, he is the son of Paul Poberezny, founder of the Experimental Aircraft Association (EAA) and the organization's current president. He developed a love for competition aerobatics that took wing in 1970 when he passed up graduation day at his university to enter his first contest. He won the Intermediate class flying a Pitts Special. In 1970, he helped the American team participating in the World Aerobatic Championships win its first-ever world title. In 1973, Poberezny won the National Unlimited Aerobatics Championship in "one of the proudest moments" of his life. As President of the EAA Aviation Foundation, Poberezny led the concept, design and development of the EAA Aviation Center in Oshkosh that also houses the EAA Air Adventure Museum. As president of EAA, he directs an international organization with 750 chapters and more than 400,000 members, and oversees the publication of six magazines.
Paul Poberezny
Poberezny is one of the most decorated men in the international aviation community, having received hundreds of trophies, awards and honors for his countless contributions to the world of flight. He is best known as the founder of the Experimental Aircraft Association (EAA), one of the world's leading aviation organizations. His career includes nearly 30 years of military service as a pilot, test pilot and veteran of both WWII and the Korean War. He is the only man in the armed forces to attain all seven aviation wings the military offered and did so without having the benefit of military aviation training. Paul has logged more than 30,000 hours of flight time, piloted 391 different types of aircraft, and designed and built more than 15 different planes.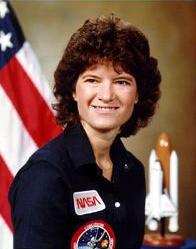 Sally Ride
In 1983, Ride became the first American woman in space on the shuttle Challenger (STS-7). Her next flight was an eight-day mission in 1984, again on Challenger (STS 41-G). Her cumulative hours of space flight total more than 343. Ride was preparing for her third mission when the Challenger exploded in 1986. When training was suspended, she was appointed to the Presidential Commission charged with investigating the accident. She moved to NASA headquarters in Washington, D.C., where she became assistant to the NASA administrator for long-range planning. Ride created NASA's "Office of Exploration" and produced a report on the future of the space program, "Leadership and America's Future in Space."
Burt Rutan
Rutan designed and developed the all-composite Voyager, the first airplane to fly around the world nonstop without refueling, covering 24,986 miles in 216 hours in December 1986. In 1974, he started his own company, the Rutan Aircraft Factory, developing innovative aircraft designs including the popular VariEze and Long-EZ for aviators interested in building their own light aircraft. He designed, built and tested 17 manned prototype research aircraft and several unmanned aerospace projects for both commercial and government clients.
Dick Rutan
Rutan made the first nonstop, non-refueling around the world flight in the Voyager aircraft in nine days in December 1986. As an Air Force pilot, he flew 325 combat missions in the Vietnam War, 105 of them with the top-secret MISTY group. Chief test pilot for the Rutan Aircraft Factory in Mojave, Calif., and set numerous world speed and distance records in the Rutan Long-EZ.
* Patty Wagstaff
Wagstaff, who flies the Goodrich Extra 300S, is a three-time U.S. National Aerobatic Champion and the first woman to win this title (1991). She retired from aerobatic competition in 1996, and now divides her time between airshow and movie stunt flying. A six-time recipient of the Betty Skelton, "First Lady of Aerobatics"award, Wagstaff has received many awards for her flying.
* Jeana Yeager
On Dec. 14, 1986, Yeager and Dick Rutan took off from Edwards Air Force Base to break one of aviation's last records: to fly around the world non-stop and non-refueled. The round-the-world flight of Voyager lasted nine days, three minutes, and 44 seconds, finishing back at Edwards on Dec. 23, 1986. Yeager participated in the building of the aircraft, and she piloted Voyager for many hours during the multi-record flight. Prior to the flight, Yeager (no relation to General Chuck Yeager) worked in engineering design and set women's records in Rutan aircraft. Throughout the flight, the physical and mental capabilities of the pilots were continually tested by mechanical and severe weather problems, as well as cramped quarters (the cockpit being roughly the size of phone booth). Since then, Yeager has traveled around the world for aviation education presentations and speaking engagements.
Colleen Barrett
Barrett was a secretary at the law firm that helped Southwest Airlines take off in 1971. Thirty years later, she took the helm as president, just three months before the September 11 terrorist attacks. Barrett directed the effort to get the airline flying again, reassuring customers and employees and securing the company's financial stability.
* Margaret Sidonie Sansom Bosin
Lieutenant Commander Bosin is a helicopter pilot. While serving as Senior Aviator/Assistant Division Chief in Polar Operations Division, she made two Antarctic trips. LCDR Bosin was recognized as the aircraft commander of the first all female Coast Guard aircrew in the Antarctic. She is currently stationed at Coast Guard Air Station San Francisco.
Eileen Collins
Air Force Colonel Collins was the first woman to command a space shuttle mission. In February 1995, after several years of training with NASA, Collins became the first female astronaut to pilot a space shuttle mission and served as second-in-command of the shuttle Discovery during its unprecedented rendezvous with the Russian space station Mir. In 1997, Collins piloted her second mission on the shuttle Atlantis during its delivery of 7,000 pounds of equipment to Mir. Collins had logged 419 hours in space by the time she was chosen by NASA to become its first female shuttle commander.
* Jane Garvey
Garvey is executive vice president and chair of the transportation practice of APCO Worldwide, a global communication consultancy. Prior to joining APCO, Garvey was the first-ever five-term administrator of the Federal Aviation Administration, where she successfully navigated the year 2000 transition, established a risk management approach across the entire aviation community to improve safety, and worked to expand the capacity and capabilities of the air traffic control system. Garvey previously served as acting administrator and deputy administrator of the Federal Highway Administration, where she developed the Innovative Financing Initiative and a special debt instrument designated a GARVEE (Grant Anticipation Revenue Vehicle) by the U.S. public finance market. She was also director of Boston's Logan International Airport and commissioner of the Massachusetts Department of Public Works. She has received numerous awards and much public recognition for her work.
Marion Jayne
Jayne (1926-1996) is the only U.S. pilot to have raced her plane twice around the world. In the 1992 world race she won second place with daughter Nancy Palozola. In the 1994 world race – the longest in history – Jayne won the FAI Gold Medal with her daughter Patricia Jayne Keefer. By the time Jayne started flying, she had already participated in the Olympic diving trials at age 13; married at 17; co-founded stables with her husband, George; had four children; and had been a world class equestrian as one of the first riders to jump a horse over a 7-foot fence. Marion won an astounding 26 first place victories flying her famous Twin Comanche and other planes, which stands as a record in cross country speed racing. She created the first annual cross-country speed race open to both men and women. She also founded the Illi-Nines Air Derby, Grand Prix Air Race, co-founded the Air Race Classic, launched what is now the U.S. Air Race and started "Tailwinds," an aviation-oriented mail order gift catalog.
* Shannon Lucid
In 1996, Lucid set a new record for the longest U.S. space mission (188 days) in orbit aboard the Mir space station. She became the first woman to be awarded the Congressional Space Medal of Honor. Selected by NASA in January 1978, Lucid became an astronaut in August 1979. She is qualified for assignment as a mission specialist on Space Shuttle flight crews. A veteran of five space flights, Lucid has logged 5,354 hours (223 days) in space. She holds an international record for the most flight hours in orbit by any non-Russian, and holds the record for the most flight hours in orbit by any woman in the world. From February 2002 until September 2003, Lucid served as NASA's Chief Scientist stationed at NASA Headquarters, Washington D.C., with responsibility for developing and communicating the agency's science and research objectives to the outside world. Lucid has resumed duties at the Johnson Space Center, Houston.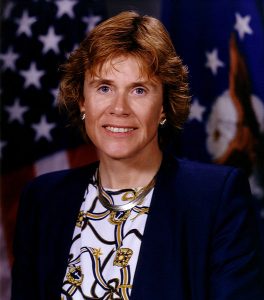 Sheila Widnall
Widnall is the former Secretary of the Air Force and the only woman to ever head a military service. After 30 years of teaching and leading at MIT (Widnall was the first woman to chair a department at MIT), she assumed the position of Secretary of the Air Force in 1993. In that role, she was responsible for the current and future readiness of the Air Force to accomplish its missions. She oversaw the recruiting, training and equipping of the 380,000 men and women on active duty, 251,000 members of the Air National Guard and the Air Reserve, and 184,000 civilians of the total force. She was further responsible for planning, justifying and allocating the service's annual budget of approximately $62 billion. Other responsibilities included logistical support, maintenance, research and development, and welfare of personnel.