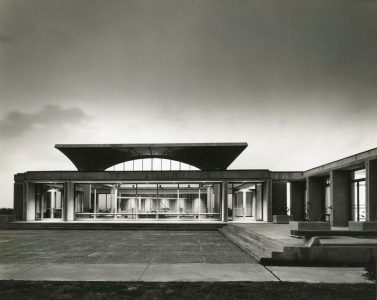 Wright Brothers National Memorial Visitor Center, designated a National Historic Landmark in 2001, will welcome
visitors October 20, 2018, as it re-opens after a two year rehabilitation and a delay from the original September re-opening date due to
closing and safeguards resulting from Hurricane Florence.
A  highlight of the original program for September 29th continued as scheduled, a free public concert and light art show by Swiss light artist Gerry Hofstetter.
Hofstetter originally conducted this light show in October 217 as part of his Light Art Grand Tour USA spotlighting 50 United States monuments.
With the grand re-opening of the visitor center October 20th, the public will not only experience a fully rehabilitated facility but also new exhibits.  For the first time since the facility opened in 1960, there has been an exhibit make-over.
The Wright and First Flight stories are now interpreted through inter-active and video formats.  Artifacts including a 1903 Flyer propeller, engine
crank case, Mrs. Addie Tate's sewing machine, the wind tunnel (reproduction), and Wright tools, return in newly designed interpretive
settings.
A popular artifact, cloth and wood from the Kitty Hawk 1903 Wright Flyer taken to the moon's surface by astronaut Neil Armstrong, is returned to display but in an interactive schematic.
The artifact collection will introduce select pieces not previously displayed including items loaned to WBNM/National Park Service by the Franklin Institute.
The 1903 Wright Flyer returns to the Flight Room in a new exhibit format.  The Flyer has been refurbished in preparation for its reinstallation in the Flight Room.
During the facility's rehabilitation the 1903 Flyer was displayed aerially at the North Carolina Museum of History (NCMOH) ensuring the Flyer did not leave North Carolina.  The First Flight Foundation was pleased to facilitate this partnership between the museum and the National Park Service and to fund the Flyer's installation through a grant to the North Carolina's Museum of History Foundation.  During its display at the NCMOH, the Flyer was available to over 400,000 visitors.