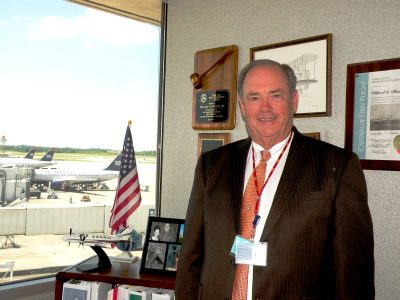 Lt. Col. (USAF Retired) Willard G. Plentl, Jr.
August 3, 1945-March 23, 2019
We are grateful for the years of service to aviation, North Carolina, the First Flight Foundation and the legacy of the Wrights.
Will had a distinguished military career serving in the Air Force, North Carolina National Guard and the Reserves. He was a pilot and a Professional Engineer earning a B.S. in Civil Engineering from the Virginia Military Institute in 1967. He began his aviation career as an Air Force Supervising Engineer at Wright-Patterson Air Force Base in Dayton, Ohio, where he supported construction, research and development and worked on Air Force operations under system command, airfield selection and contingencies and supervised engineering and construction regarding Boeing and McDonnell Douglas. After Wright-Patterson AFB, he served as an aviation engineer for Florida's Department of Transportation which prepared him for his next role as the Aviation Director for the State of North Carolina.
He developed flight services; pioneered state construction standards for NC and the Southeast. Throughout his years with the NCDOT-Aviation, he developed and honed managerial expertise navigating the state and federal bureaucracies for aviation transportation systems, block grants and addressed business and tourism needs. He then became the Airport Director for the New Hanover International Airport in Wilmington, NC, where he increased hub options and brought one-stop connecting services to 141 domestic and 22 international markets. His next opportunity became the Deputy Director at the Charlotte-Douglas International Airport where he lead them to both a world top five and top 10 ranking for operations. He also managed employee, customer, vendor and carrier interests and programs. To add to his accomplishments he developed the CLT Center for multiple airport operations and the establishment of a USO center at the airport. After retiring, he began working as an aviation consultant with Parrish and Partners.
Will was a life member of the Air Force Association (AFA) and the NC National Guard Association (NCNGA).
Professional associations include: National Association of State Aviation Officials (NASAO) serving as legislative chair and president; American Association of State and Highway Transportation Officials (AASHTO); National Society of Professional Engineers; and founding director and past president of the North Carolina Airport Association (NCAA).
Will was active behind the scenes and leading sectors of the 2003 First Flight Centennial and afterwards as President of the Foundation.
He was a life member and past president of the First Flight Society.
Throughout his career Plentl has received numerous and prestigious awards: AASHTO President's Modal Award; FAA National Appreciation Award; USAF Meritorious Service Award; NCANG Meritorious Service Award; CAP Friend of the Civil Air Patrol; NCAA President's Award for Excellence, and NCDOT Captain of First Flight.