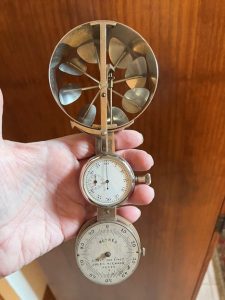 Construction update by Rick Young, Wright Brothers Historian, Wright Authority, Wright Aircraft Reproductions.
The Wright 1908  machine presents its own unique difficulty as there is only a single image of the flyer and it was taken at a considerable distance.  While there are many images of the flyer in its original configuration in 1905, there lacks clear imaging of the precise layout of the chain and tube transmission which carries the power from the Wright's newly designed vertical-4-cylinder gasoline motor to the twin spruce propellers.
This measurement is complicated by the difficulty in locating the exact position of the motor crank in three dimensions.  The lower wing surface is curved, and the motor is mounted to the flyer on strong spruce engine bearers.  The design of these bearers does not appear to match the curvature of the ribs.
We, the builders, have mocked up parts of the center portion of the flyer to discern this configuration.  The correct dimensions have been determined but as this is the final unknown, they have decided to rebuild the full-scale mock-up of the 1905 Flyer to affirm.
Next, is the reassembly of this prototype with the new modifications, mount to motor and directly measure the final details of the chain guide transmission.
The last few months have proven to be exciting!  We recently acquired an original 19th century Jules Richard Anemometer for the flyer.  These beautiful instruments were used to measure the distance flown through the air on their test flights.  They were made in France and difficult to find. After months of searching, we acquired one from Croatia.
"It was exciting to receive this as it is the final missing component for the flyer and we have been searching for one for years,"-Young.
Once the transmission is finalized, construction will commence on the wing panels, elevator, and rudder.  This will ready the machine for shipment and final assembly.
"This is the fun part where the machine takes shape, and the flyer emerges."-Young
Production thus far reports completed: the motor, propellers, wing and rudder fabric panels, spars, struts, ribs, and rough cut of all parts of the elevator and rear rudder and landing skids.  Final dimensioning, finishing and final assembly remain.
The Wright 1908 Aircraft is being commissioned by the First Flight Foundation as a gift to the North Carolina Museum of History in the honor and memory of Will Plentl, Foundation board president who passed in 2019. Plentl was North Carolina's first director of aviation.  The 1908 will be installed in the museum's forthcoming Wright Gallery.