"Wright Monument"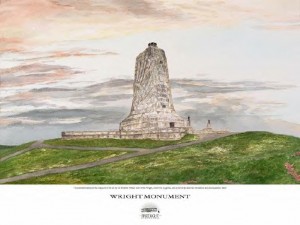 "In commemoration of the conquest of the air by the brothers Wilbur and Orville Wright, Conceived by genius and achieved by dauntless resolution and unconquerable faith."
Perched atop 90 foot high Big Kill Devil Hill, the pylon with sides ornamented with gigantic wings in bas-relief present the images of a gigantic bird about to take off from the hilltop. This triumph of engineering and a veritable architectural marvel is a fitting tribute to the two modest brothers who gave the world the gift of flight.
Conceptual Design: In commemoration of the 25th anniversary of man's first flight in a heavier-than-air machine, the memorial's cornerstone was laid atop Kill Devil Hill on December 17, 1928. Months later the Quartermaster's Corp of the U.S. Army set in motion plans for design and construction of a monument dedicated to the achievements of Wilbur and Orville Wright.
The memorial's stainless steel doors are decorated with eight panels depicting man's early attempts at mechanical flight, from the Greek legend of Icarus to early kites and balloons.  Three niches in the interior were designed for the busts of Wilbur and Orville and for a model of the Wright Flyer.
The first floor interior is lined with pink granite from Salisbury, North Carolina and the floor is black granite from Wisconsin. Carved in granite on the west wall is the following inscription:
"From a point near the base of this hill, Wilbur and Orville Wright launched the first flight of a power driven airplane Dec. 17, 1903."
    Inscribed on the east wall is a quotation from Pindar, the greatest lyric poet of ancient Greece,
"The long toll of the brave is not quenched in darkness, nor hath counting the cost fritted away the zeal of the hopes. O'er the fruitful earth and athwart the sea hath passed the light of noble deeds unquenched forever."
The second floor housed a stainless steel world map, the "First Twenty-five Years of Aviation." Engraved by Rand-McNally, it depicts all historically significant airplane flights from 1903 until 1928. The map was removed in 1998 during the restoration of the monument.
The monument is 61 feet high with a base measuring 36 feet by 43 feet. Its foundation, shaped like a five-pointed star, mimics the foundation of the Statue of Liberty. The monument cost $285,000 to build.  Work began on the monument in December 1931, and the monument was re-dedicated in May 1998, when its beacon was re-lit.
The monument was used briefly during WWII for an ultra-high frequency submarine monitoring system which was then moved to another location in Kitty Hawk.
Mills rendered the dry-brush watercolor landscape of the "Wright Monument" in 1987 at the request of the National Park Academy of the Arts.  From a pool of 2,300 art pieces, Mills' watercolor was one of the twenty selected to tour the United States in 1988. At the request of the U.S. House Representative Martin Lancaster, the painting hung in his Washington, D.C. office in 1993-94 to represent the state of North Carolina.