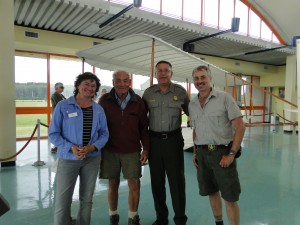 Lt. Col. (RET) Al Hulstruck of the US Army WWII Glider Pilots, Silent Wings, joins Soaring 100 with an exhibit that he personally funded, built, and shares with aviation enthusiasts, historians, and the public.
Hultruck has the distinction of serving as a US Army Glider Pilot with a Signal Corps Special Operations Group during WWII.  Flight missions included the Normandy Invasion.  During the Rhineland Invasion Hulstruck landed his glider 12 miles behind German lines.
"It was a one-way ticket," said Hultruck.  "There were no second chances."
Military gliders, numbering 6,000 by the war's end, were the earliest "stealth" aircraft desiged to transport a dozen or more soldiers and equipment.
Hulstruck is a fascinating story-teller bringing history to life for many generations.
Read the full article on US Army Glider Pilots, http://www.army.mil/article/56415/one-way-ticket-pandemonium—-wwi.